Sports are interesting and when you get the opportunity as an upcoming teenager to enroll at a college, and get a scholarship for sports, things start looking up. With that in mind, not everybody is up for every single sport. Some sports, particularly team sports, are more difficult to handle than other sports, and coaches need to get through a lot of footage and the athletes get much more stressed out when trying out for a scholarship.
For track and field, however, things are much simpler. Here is how you could get a track and field scholarship.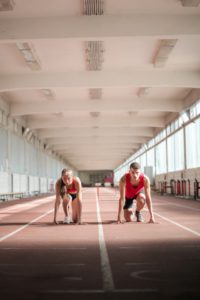 Find Out What the Requirements Are
Track and field is very simple compared to a lot of other sports. Either you make a certain time and you are in, or you are out. For other disciplines, like throwing ones, you need to hit a certain distance. This is also true for jumping disciplines, either you make the mark, or you don't. However, not everything is as cut and dry and one should always be informed whether they meet the other requirements. Applying for anything often takes paperwork and that is something one should prepare for.
Work Out Regularly – It is Not Easy
Even if you might think that you are The Flash, there is probably someone faster. Even retired Usain Bolt could most likely outrun everybody but top tier Olympic Athletes at the moment. Knowing that, stay humble and keep working on your performance. You need to make a certain mark and get a certain time and that is the most important thing for a track and field scholarship. Getting those right will earn you a trip to university. However, it is not a sprint (even if it might actually be), it is a marathon, and that is something the following paragraph will explain better.
Work Out But Also Rest – Injuries Are Fatal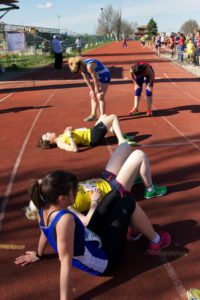 While injuries are most likely not going to be actually fatal, they might be fatal for a young athlete's career in track and field, at least a professional one. Even if you make a certain mark but you injure yourself along the way, how likely are you to keep your scholarship if the injury is serious enough?
While injuries are something we never plan for, most young athletes are pretty lax about stretching and following the proper procedure for warming up. Rest and recovery are just as important and all teengagers love partying (to an extent), so they might be tempted to become inebriated. This is not recommended, particularly if it is to become a regular habit. Getting a scholarship is just the start of the journey. Re-earning it is another step.
Apply to Multiple Colleges
This is as simple as it gets when it comes to advice. You might not make the cut at one college, but at another, you might get what you need. Have in mind that if you barely made the list, you should work even harder to earn back your scholarship for the following year.
These are some tips on how you can get a track and field scholarship, but it boils down to work hard, smart and plan ahead.